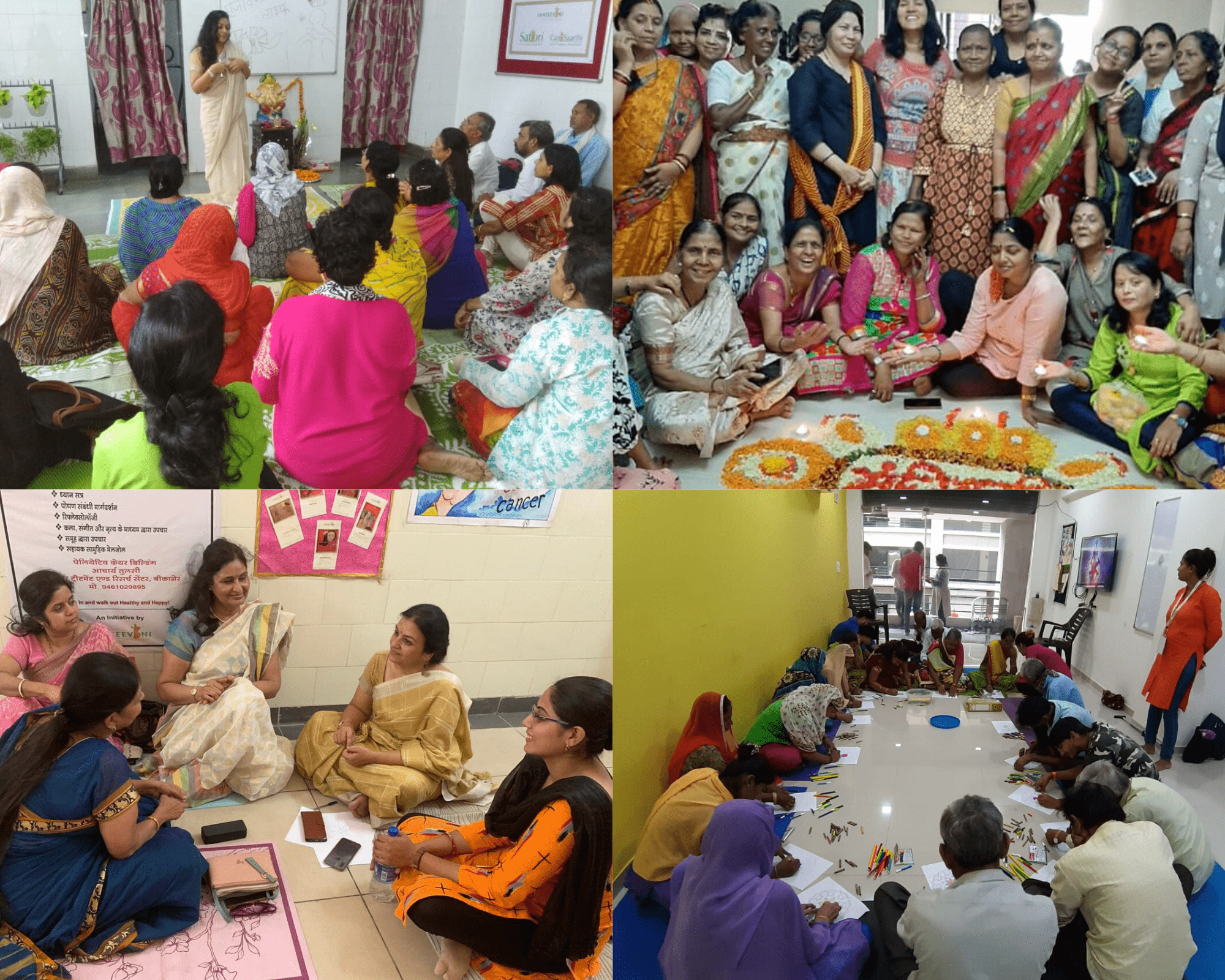 Every cancer victor's fight against cancer can be said to be over only when the patient's 'life beyond cancer' is secured by equipping them with holistic skills that allow them to go back to their lives with just as much vigour and positivity. Enabling cancer victors with integrative coping techniques and ensuring that the risk of their cancer's recurrence remains minimal is the sole objective of Satori - Sanjeevani's Holistic Healing Initiative. It does so by offering alternative therapeutic interventions which focus on the overall wellbeing of patients to help them live a better quality of life post-treatment, by strengthening the immune system while dealing with the conventional methods of treatment.
In what way does Satori help in the post-treatment stage?
Equipped with life-enhancing skills, cancer victors can take complete control of their overall well-being and lead lives with better quality on their own terms. Our Satori is a specially designed workshop to offer a unique 12 sessions to assist cancer victors in manifesting positive changes as a part of their daily routine and in the process, also help them in reducing the chances of recurrence. Watch Najma Khan's revelation of overcoming her fear of cancer and work towards a healthy lifestyle after being a part of Sanjeevani's Satori initiative.
This program is built on the belief that immunity has a huge role to play in the fight against cancer. Strengthening the immunity of people affected by cancer through diet, breathing exercises, and addressing their primary mental constructs is the backbone of this program.
Satori, the holistic immunity building and wellness program, has been created keeping the following objectives in mind:
1.     Help the cancer victors deal with the side-effects of modern medicine in a better way
2.     Guide them with ways of boosting their immune systems, helping them fight cancer in a more robust manner
3.     Equip them with skills to take responsibility of their own health
Spanning over 2 weeks in 12 well-structured sessions, our Satori initiative has been proven to improve the physical, cognitive, and social functioning of patients along with alleviating their financial concerns. An Impact Assessment Report carried out by Monk Prayogshala, an academic research organization based in Mumbai, concluded that the participants had a high level of satisfaction in the program's teachings. It also proved substantially beneficial for the participants' mental and physical health in the long run. The high rate of impact meant that the patients carried forward the practices taught to them during the program much further into their daily lives. Furthermore, they also reported being able to better regulate their emotions and were more in control of their feelings, leading to better health for them.
View the first-hand accounts of Ms. Shraddha Shivalkar, Ms. Vrushali Dalvi, and Ms. Snehal Raut as they shed light on their experiences with the Satori program.
As a holistic healing initiative, Satori has successfully transformed the lives of over 12000 patients (Pre - COVID 19 enriched the lives of 8000, and Post - COVID 19 enriched the lives of 4000 patients in online mode).
If you'd like to be a part of this movement and our journey, you can take action today. You can volunteer with us here or Donate towards the change.